Big rally in Portland
Bernie Sanders' decisive May 17 primary victory in Oregon was preceded by a May 3rd rally in Portland's Shemanski Park that attracted more than 750 union members and community supporters. The rally was initially planned by Local 8 member Jeff Smith to be held at the Local 8 hall but moved it to the park because of growing interest and the bigger crowd that came to the event.
ILWU officers attended the rally including ILWU International President Robert McEllrath, ILWU International Vice President (Hawaii) Wesley Furtado and President Alan Coté of the Inlandboatmen's Union (IBU).
Union solidarity
Unions represented at the rally included, the ILWU, the IBU, Communications Workers of America, Amalgamated Transit Union, the National Nurses United and the Postal Workers Union.
Political leadership
Bernie Sanders was not able to appear at the rally, but Oregon Democratic Sen. Jeff Merkley, and Representative Tulsi Gabbard (D-Hawaii) spoke at the event. They highlighted issues that have mobilized millions of Americans to support the Sanders campaign: opposition to so-called "free trade" deals like NAFTA, CAFTA and the TPP that have devastated workers, ending mass incarceration of poor people and people of color, climate change, the lack of Wall Street regulations and a campaign finance system that leaves working people virtually voiceless in the political process.
Vice President Furtado introduced Congresswoman Gabbard at the event. He thanked her for the strong support she has given the ILWU in Hawaii and for her commitment to the working men and women of Hawaii.
Smith said there was a strong turnout from ILWU members at the event, including people who traveled from Seattle and the Bay Area to attend.
Sanders' overwhelming support in Oregon was confirmed when he scored a 12-point victory margin on Election Day – and set the stage for a showdown in California's June 7 primary.
So Cal Organizes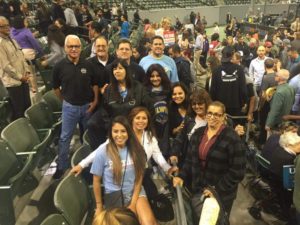 Southern California ILWU Locals geared-up for their final month of outreach and educational work before the June 7 primary election with a campaign kickoff event for ILWU volunteers on May 5 that was attended by 100 volunteers, including members, pensioners, and family – plus community leaders and special guests from other unions.
Southern California Pensioners Group President Greg Mitre served as Master of Ceremonies. He was joined by SCDC President Cathy Familathe of Local 63, SCDC Legislative Representative Floyd Bryan of Local 13, and former ILWU International President David Arian, who now serves on the Port Commission.
"We have four weeks to contact and educate ILWU members about Bernie Sanders before the election," said Greg Mitre on May 5. "We need to make sure everyone we know is informed and registered to vote."
On May 17, Bernie came to the Stub Hub Center in Carson where an estimated 20,000 supporters filled the stadium for a supercharged evening rally. Local 13 President Bobby Olvera, Jr., joined other ILWU officers and members who attended the big event.
"The diversity of the crowd showed his support crosses racial, gender and socioeconomic lines," said Olvera, Jr. "He reminded us that a great country requires dignity and security for all our citizens – not just luxuries for the one percent and corporations."
Nor Cal Outreach
ILWU Local 6 is serving as a hub for the Northern California District Council's outreach effort. A mobilization on Saturday, May 21 sent volunteers out to Bay Area neighborhoods where they contacted ILWU members about Bernie Sanders.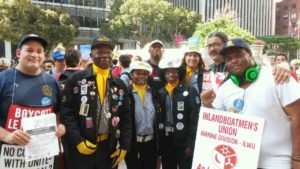 Bernie's CA buzz
On May 18, Bernie Sanders appeared at three Northern California locations, beginning in San Jose where he was met by a large crowd that included many union members. In the afternoon, he joined a rally in downtown San Francisco to support hundreds of hotel workers and custodians.
"We need to grow the unions in our country so that workers can negotiate fair contracts, fair wages, and fair working conditions," Sanders told more than 1,000 supporters who jammed downtown streets in the financial district. Among those marching in San Francisco were members of Local 6 and Local 10.
The day concluded with an early evening rally at Waterfront Park in Vallejo, a working-class community that's been hit hard by foreclosures and personal bankruptcies caused by the Wall Street financial crisis. Members of Local 6 and 10 attended the event that attracted more than 10,000 supporters who came on short notice.
"The crowd was impressive and peaceful," said ILWU Coast Benefits Specialist= and Local 10 member John Castanho. "He hit all the issues that ILWU members care about."
The June issue of The Dispatcher will include analysis of the California Primary and next steps in the Presidential campaign.