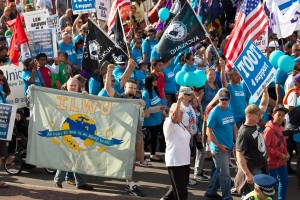 The 292 New Zealand dockworkers who were illegally fired by the Ports of Auckland in the beginning of March scored an important legal victory on March 21st when their employer agreed to withdraw the termination order.
The port was forced to reverse course because they feared that New Zealand's Employment Court would not allow the firing of the union dockworkers, said Garry Parsloe, President of the Maritime Union of New Zealand (MUNZ).
The employer decision to cancel the firings also came as international solidarity efforts geared-up around the globe, focusing attention on the harsh, anti-union policies employed against workers by management at the Ports of Auckland.
Spurring union's good faith offer
When management agreed to withdraw the firing order, MUNZ members voted to end their strike and unilaterally return to work. But any sense of celebration was short lived. Instead of reciprocating the union's good faith offer to end the strike and return to work, the Ports of Auckland management immediately issued a lockout notice and refused to let the dockers back to work. Under New Zealand labor law, parties must give a 14-day notice prior to a strike or lockout at the port.
Port management 'out of control'
After the lockout notice was served, workers and community supporters took to the streets, including over 60 students from the University of Auckland. MUNZ President Garry Parsloe said Port's action was illegal and destructive.
"We're ready to go back to work and get this port moving again for Auckland," said Parsloe. "It is deeply disturbing that the company's vision is so blurred that they now want to stop the port from functioning," he said.
Parsloe said management at the Ports of Auckland is "out of control," and called on Auckland's Mayor and Council to "step in, sack management and replace them with a group willing to run this important asset for the benefit of Auckland."
Erratic port management
Port officials have given conflicting rationales for the lockout. Ports of Auckland board chairman Richard Pearson was quoted in the New Zealand press saying that the lockout was aimed at moving toward  a "competitive stevedoring system" which is management-speak for casualizing the workforce. The following day, Pearson made the outrageous claim that the lockout was imposed to protect the safety of replacement workers, saying the lockout would continue until the MUNZ assurance that replacement workers would not be subjected to violence. No evidence of threats or violence was cited by the port.
New Zealand's Council of Trade Unions (CTU) President Helen Kelly criticized Pearson's unfounded accusations against MUNZ members.
"If he has got any evidence of this he should give it to the police," said Kelley, "but there is no evidence," she told Radio New Zealand.
Conflict of interest
The New Zealand Herald newspaper reported a possible conflict of interest involving an unnamed port manager who participated the contract negotiations and is connected to a company hiring non-union dockworkers. The company, Pacific Crew Holdings Ltd, was registered on February 27th, nine days before the Ports of Auckland announced the firing of the 292 MUNZ  dockworkers.
The allegations suggest management was not negotiating in good faith because at least one member of their negotiating team had a predetermined view – and possible financial conflict that could allow him to benefit from firing union members and replacing them with private contractors.
International pressure mounts
The port is facing mounting international pressure for their attack against union workers, its efforts to undermine to working conditions for port workers. The ILWU and other unions affiliated with the International Transport Workers Federation (ITF) mobilized quickly to show solidarity and offer support.
Dockers belonging to the Maritime Union of Australia refused to handle cargo coming from the Port of Auckland, triggering a multi-million dollar legal threat against the union.
ILWU's speedy solidarity action
The ILWU sent a team of 16 rank-and-file members to New Zealand just days after the Port of Auckland notified the MUNZ in early March that union dockers were being fired.  ILWU International Vice President Ray Familathe was on the ground early and spent 10-days in New Zealand helping to coordinate international solidarity efforts with the MUNZ dockers.
When the ILWU delegation arrived in Auckland they went first to the MUNZ hall to meet with the dockworkers and hear firsthand about their ongoing struggle to preserve good paying jobs and prevent the casualization of the workforce at the Port of Auckland. After meeting with the dockers, ILWU members joined them on the picket line outside the port for several hours. The ILWU delegation returned the following afternoon for massive community rally and march through the streets of Auckland to the port.
The 16-member delegation consisted of Kevin Johnson and Michael Gardner from Local 8, Ed Ferris and Melvin Mackay from Local 10, Bobby Olvera Jr. and Mark Williams from Local 13, Richard Austin II and Jason Gross from Local 19, Scott Mason and Roger Boespflug from Local 23, Sean Farley from Local 34, Dawn Des Brisay from Local 40, Andrea Stevenson from Local 52, Pete Ciaramitaro and Mike Ponce from Local 63 and Fred Gilliam from Local 91.
Mobilizing support in the US
ILWU members organized a coordinated group of solidarity actions on March 19 to raise public awareness and educate west coast port officials about the struggle by the New Zealand dockers.
In each location, a delegation of ILWU members delivered a letter explaining how the use of bribery and illegal firings by Ports of Auckland management is an abusive tactic that is unlawful in the United States and many other nations.
In Washington, DC, a letter of concern was delivered to the Ambassador at New Zealand's Embassy by a delegation that included ILWU International Secretary-Treasurer Willie Adams, Local 63 and International Executive Board member Peter Peyton, and Local 10 member Adam Mendez.
In Los Angeles, ILWU Local 13 Vice President Bobby Olvera, Jr., and Local 63 President Mike Ponce led a delegation of 35 members to the New Zealand Consulate in Santa Monica. A group of representatives had a 15-minute meeting with the Consul General, who promised to directly convey our concerns to his home office.
In Oakland, California, a delegation delivered their letter of concern to Port of Oakland Deputy Executive Director Jean Banker. The delegation was led by Ray Familathe, ILWU International Vice President, Mainland, Local 34 President Sean Farley, and Local 10 Secretary-Treasurer Ed Ferris.
In Portland, Oregon, ILWU Local 8 President Jeff Smith and Local 8 member Mike Gardner delivered a letter of concern to Port of Portland official Dan Pippenger.
In Tacoma, Washington, the ILWU delegation of 15 members was led by Local 23 President Scott Mason who delivered a letter of concern to Don Esterbrook, Chief Commercial Officer at the Port of Tacoma. Port CEO John Wolfe later confirmed he would make contact with the Port Authority in Auckland to convey concern and request a satisfactory resolution.
In Seattle, Washington, the delegation was led by Local 52 President Andrea Stevenson and Local 19 President Cameron Williams. Their delegation met with Seattle Port Commissioner Rob Holland. The group also communicated with Port of Seattle CEO Tay Toshitani.
ILWU Vice President Familathe said the fight over working conditions at the Port of Auckland is being closely monitored by everyone in the industry. "You can be sure that companies around the world are watching the battle in Auckland to see what happens there, because the outcome could have international implications."
TAGS: MUNZ